The welcome speech in total:
Translation by Ulla Sallaway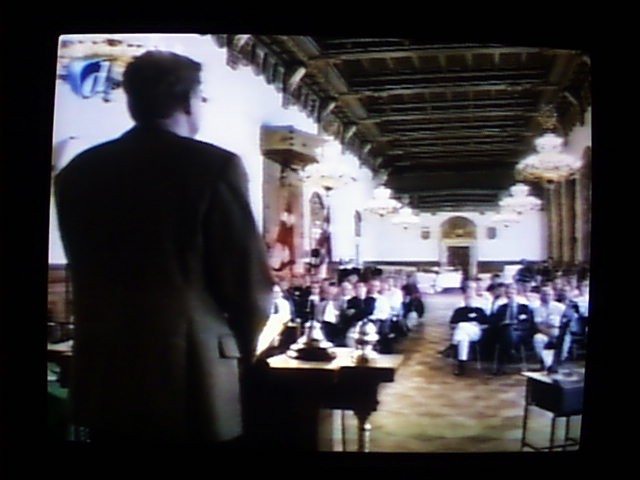 Mayor Soren Pind's speech at a reception held at Copenhagen Town Hall on September 2, 1999.

It's a special pleasure to welcome you to Copenhagen Town Hall to the conference on RUF and the future of Denmark.

The reason for my pleasure is a complete and total revolt against conventional thinking represented by RUF. It breaks down all conventional ideas, all dogmas and sacred cows.

The reason is that the Danish traffic debate is depressing. For several years each "party" has been
standing in each corner demanding exemption of duties, more roads, free parking, removal of petrol duties and free consumption - while the other party has demanded "cars out of the city. Ban private cars. Heavier duties on it all, etc.". Worst exemplified by the NOAH traffic organisation whose representative Ivan Lund Pedersen once exclaimed:" We must not drive for fun. We must not drive to work. We must not drive to shop". I should think he just about covered it all....

As in many other cases of decisive new ways of looking at things Palle R. Jensen has chosen to ignore the religious war in this field. He has endeavoured to combine the most positive aspects of private motoring with the most positive aspects of the public transport system.

One could almost with a politically modern concept call it a model of a free choice!

Palle R. Jensen has brought out the strongest and finest in the evolution of mankind, that is the ability and the will - through a technologically and intellectual development - to create a better world for us all.

Many people have tried to ridicule the project over the years. I see no reason for scorn. Just look at the way the two traffic groups increasingly oppose each other and fail. While fanaticism is growing in either direction conflicts will arise which could lead to disastrous results.

In today's Denmark the so-called animals liberation movement is well under way. I predict we shall soon experience fanatic traffic groupings taking the law into their own hands in a kind of orgy not usually associated with Danish standards.

The project is first and foremost an expression of not being content. That things should not be taken for granted. That on the contrary we should and must believe that progress and development can solve otherwise insurmountable problems.

It's time that someone settles with conventional ideas and professional mourners in the traffic debate. It's time to prove that there is hope for the future so that people shall not be forced to give up comfort and freedom in favour of forced and stifling solutions. It's time to break down dogmas and to bring differentiation into the traffic debate.

A bright spot is that the air in Copenhagen is measured to be cleaner than ever before. A bright spot is that environmental and market forces in California for example are increasingly in tune because demands are made. A bright spot is that the most outstanding men and women of technology are striving to solve problems that today appear insoluble.

That is why I welcome RUF and this conference. It's an expression of the fact that the future belongs to us if only we dare.